Olympic weightlifting, powerlifting, Strongman training, general gym use .. all these disciplines require a specific type of barbell. On our website you will find barbells for all those disciplines, and more! How do you know exactly which barbell suits you and your needs best? In this blog we explain the difference between all our barbells, so you easily pick the right one ;)
Sleeves, whip, knurling... these are all terms that are important when purchasing a barbell, but they might not sound familiar to you. Below, we'll explain what these terms mean and how they affect the function of the barbell. If you're already familiar with them and want to know directly which barbell is most suitable for your training, click here to skip the technical part.
Barbell Terms, What's the Deal?
Whip of the Bar
The "whip of the bar" is a term used to determine how much a barbell can bend during lifts. Because the current barbells are made with a little "elasticity", it can happen that the barbell bends when a lot of weight is lifted.
The bending can ensure that you can generate momentum, making certain lifts (such as a clean & jerk) easier. This can also be advantageous in the case of deadlifts, since the disks will then leave the platform one by one during the lift.
With squat and bench press it is generally better to use a stiffer rod to have more control over the barbell.
The 'whip' normally occurs from a weight of 150 kg on a men's barbell, and 100 kg on a ladies barbell. The thickness of the plates on the barbell also affects. For example, instead of two plates of 10 kilos and 1 of 5 kilos, use one plate of 25kg.
Barbell sleeves
The sleeves is the part at the end of the bar and forms the part of the barbell that determines how much spin the bar will have. In the sleeves there are brass cans (bushing - which are relatively stiffer) or needle bearings (bearing - which are relatively smoother).
Bushing is placed between the shaft and the sleeve. They offer low friction and are made of coppor to guarantee a long life.
Bearing offers a faster, smoother and softer spin. They are made of high quality small bearings that roll into the cover.
Our competition barbells have bearing, while for example the Lifemaxx Olympic bar (LMX32) is equipped with bushing. This is an important aspect when choosing a barbell. Barbells with bearing and needle bearing offer a smoother spin and are therefore ideally suited for movements such as the Snatch and Clean & Jerk. Barbells with bushing can be used for squats, deadlifts, bench presses and other movements that's don't require to much barbell spin.
Load capacity
The load is determined on the basis of the length of the sleeve (common for most IPF or IWF-approved barbells), which can be longer on dumbbells manufactured for niche powerlifting federations.
Barbells made for Olympic weightlifting require less length than, for example, barbells made for powerlifting. This is because the total load potential is much smaller (less than 270 kg for Clean and Jerk).
The barbell finish
The finish on a barbell has a number of purposes. It contributes to the "feel" of the barbell in the hands, helps (or impedes) the grip and can help protect against rust. Bare steel barbells provide a good grip with a natural feel. However, bare steel is more likely to rust, so requires more regular maintenance. The black coated barbells offer more oxidation protection than bare steel and do not require as much maintenance as bare steel.
Knurling
Knurling is the pattern of diagonal grooves that you see on the barbell. These small diamond shapes "dig" into the hands, making it easier to hold the barbell (with heavy weight). The width and depth of these grooves determine the grip. In addition to knurling, there is also the "knurl mark." There are two types of knurl marks: the powerlifting mark, placed closer to the center of the barbell, and the Olympic mark, placed closer to the sleeves. Many of our barbells have both knurl marks, indicating a multifunctional barbell. However, we also have special Weightlifting and Powerlifting barbells. These have only one knurl mark and are specifically designed for athletes with Powerlifting or Weightlifting competition ambitions.
Barbell PSI
The barbell has two types of power: static power and dynamic power. Static strength is how much weight you can put on the barbell while the barbell is hanging in the rack, without it bending permanently. Dynamic power is the PSI (pounds per square inch) that a barbell can handle. We use a PSI of 205000 for most of our barbells (LMX30, LMX32.04, LMX34, LMX38, LMX43 and LMX44), which is  the 'best category' (see table below, source 'The Art of Manliness')
<150,000 PSI = Ehh
150,000-175,000 PSI = Good
175,000-200,000 PSI = Better
> 200,000 PSI = Best
Which barbell is suitable for me?
Now that you have a better idea of the different features to consider when searching for a barbell, let's take a look at the various types of barbells we offer. When looking for a barbell, the goal is the most important factor. Below, we have sorted our barbells into different categories.
Barbells for the most intensive work
Crossmaxx® Olympic competition bar
LMX34 - Men - 20kg
LMX44 - Women - 15kg
LMX32.04 - Junior 10kg
The Crossmaxx® Olympic competition bar is the perfect choice for anyone who will demand a lot from their barbell and, for example, drop it regularly. This barbell is made of spring steel, making it suitable for intensive work. Whether it's high repetitions or heavy weight, this barbell can handle it all with ease. Additionally, this barbell can be used as an official competition bar. It is available in 20kg, 15kg, and 10kg variants.

Crossmaxx® Powerlifting bar (IPF spec)
LMX29 - 20kg
If you are an avid powerlifter, then this is the perfect bar for you. The Crossmaxx® Powerlifting bar is made of spring steel, making it ideal for lifting heavy weights. The only modification compared to the IPF standard is that the grip has a hard chrome finish. This is done to make the bar even more durable and give it a robust appearance. With a maximum load capacity of 900kg, you don't have to worry about this bar not being able to handle your strength. This bar features a single knurl mark (IPF standard) and has center knurling for better grip on the back during back squats and on the chest during front squats.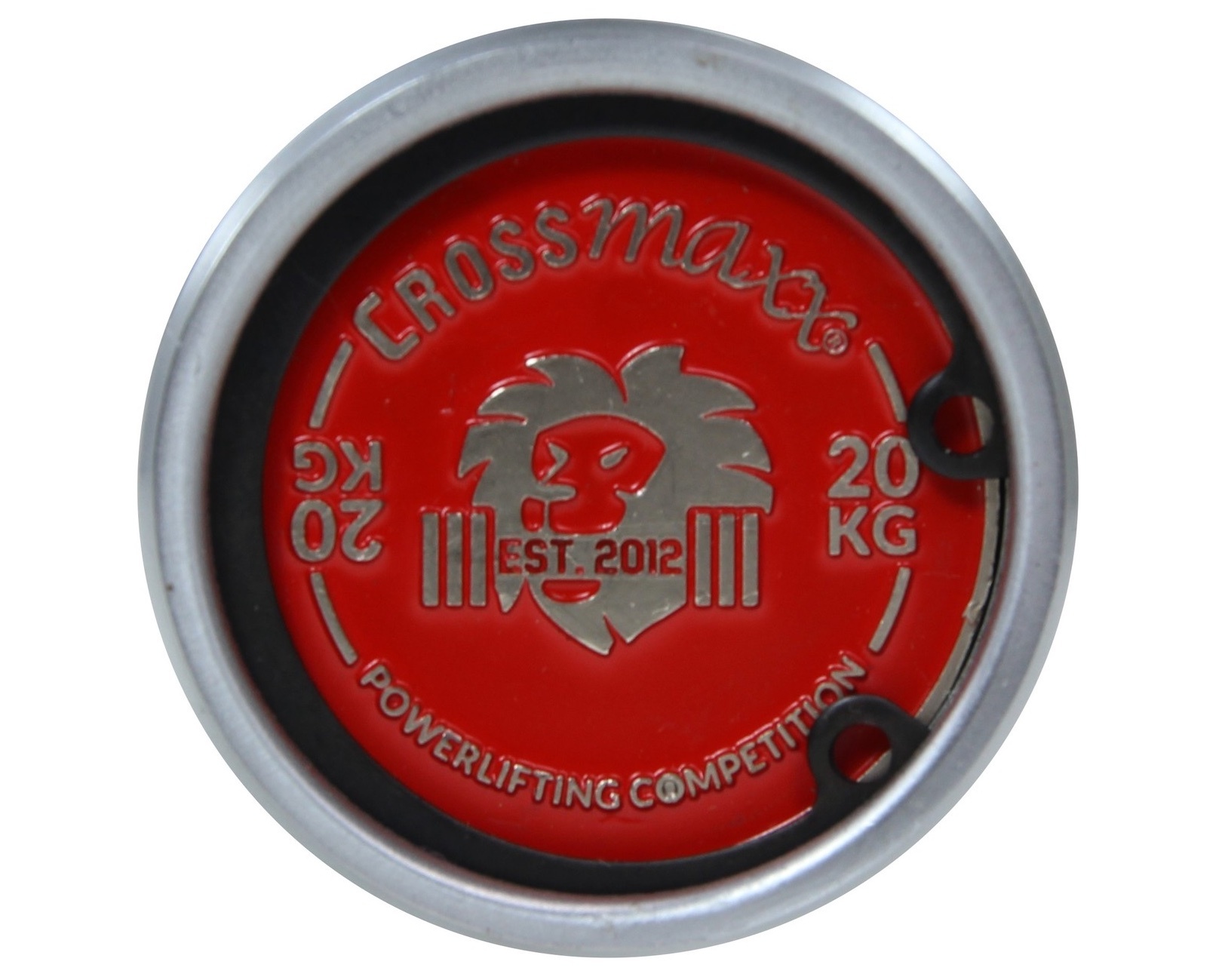 Crossmaxx® WL competition bar (IWF spec)
LMX38 women bar 15kg
LMX30 men bar 20kg
If the Snatch and the Clean & Jerk are your favorite exercises, then this is the perfect bar for you. The Crossmaxx® WL competition bar is made of spring steel and meets IWF specifications, making it perfect for weightlifting. Additionally, this bar can be used as an official weightlifting competition bar. With a maximum load capacity of over 900kg, this bar is ready for the most demanding work. The 4 needle bearings and 4 ball bearings ensure smooth spinning of this barbell, reducing pressure on your wrists.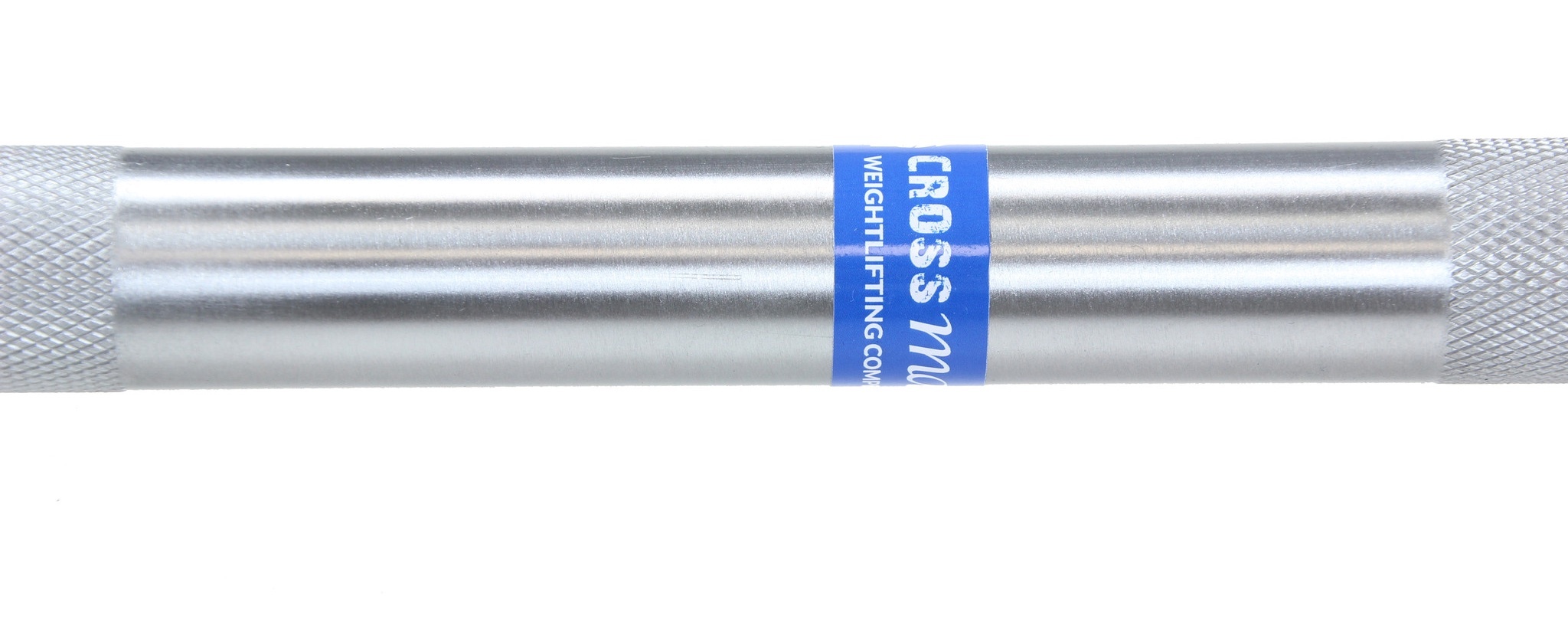 Barbells for general gym use
LMX.® Olympic bar
LMX31.01 - 220cm & 20kg
LMX32 - 150cm & 12kg
If you are looking for a barbell for exercises such as the bench press, squat, lunges, and shoulder press with low intensity, then the LMX.® Olympic bar is the right choice for you. However, this barbell is not suitable for high-intensity training and repeated dropping.

Barbells specifically for upper body training
LMX.® Olympic EZ bar
LMX33 120cm & 8kg
If "sun's out, guns out" is your motto, then this is the ideal barbell for your collection. The EZ bar, also known as the curl bar, biceps bar, or curling bar, is a versatile barbell commonly used in strength training, mainly for targeted biceps training. The abbreviation EZ in EZ bar stands for "easy." The bends in the barbell make the exercises performed with it less stressful on the elbows and wrists. This provides more comfort and makes the exercises easier to perform.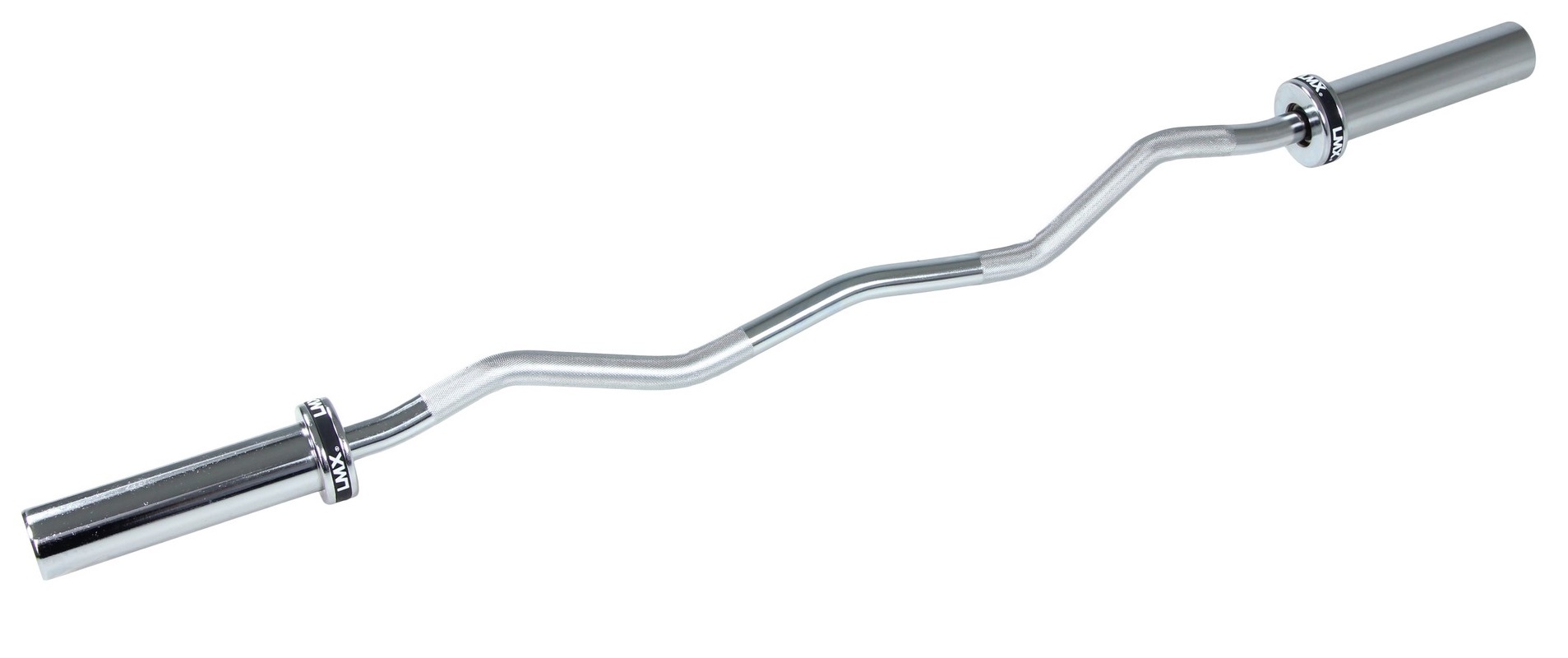 LMX.® Olympic curled V-bar
LMX36 120cm & 8kg
The LMX.® Olympic curled V-bar is the perfect bar for intensive biceps and triceps exercises. With a straight bar, you can only assume an underhand or overhand grip with your wrist straight. A curled bar, on the other hand, allows you to keep your wrist slightly bent because the bar provides a natural grip due to the extreme curves.

LMX.® Multi-purpose bar
LMX35 86cm & 10kg
The LMX.® Multi-purpose bar is specially designed for optimal concentration of the triceps without discomfort to your elbows, wrists, or forearms. The bar is made of sturdy steel with a beautiful chrome finish.

LMX.® Olympic Swiss bar PRO
LMX39.2 220cm & 26kg
The LMX® Olympic Swiss bar offers several advantages. Firstly, the Swiss bar provides a neutral grip with palms facing inward. This reduces tension on the wrists, elbows, and shoulders, reducing the risk of injury.
Additionally, the Swiss bar allows for various grip widths, ranging from narrow to wide. This allows emphasis on different muscle groups, such as the triceps, chest, shoulders, and back, simply by varying the hand position. The Olympic Swiss bar also provides more stability during exercises such as bench press, overhead press, and rows. The parallel handles provide better control over the barbell, allowing you to improve your explosive power.

Barbells with a focus on biomechanics
Crossmaxx® Hex bar
LMX37 140cm & 21kg
Crossmaxx® Open trap bar PRO
LMX37.PRO 214cm & 24kg
A hex/trap bar has the shape of a hexagon, aligning the lifted weight with the body's midline. This position makes it safer and easier to perform movements such as deadlifts, shrugs, carries, etc. When using a standard barbell, the load is always in front of or behind the midline. This places a lot of pressure on the spine and other joints, especially when lifting heavy weights. Both the Crossmaxx® Hex bar and the Crossmaxx® Open trap bar PRO eliminate this, making it a safer and more comfortable option for people with back issues (and those looking to prevent back issues). But what's the difference between these two bars? As the name suggests, the Open trap bar PRO has an "open design," allowing you to easily step into and out of the bar. This provides more freedom of movement than the closed design of the Hex bar. Additionally, the integrated bar jack lifts the sleeves off the ground, making loading the Open trap bar PRO very easy.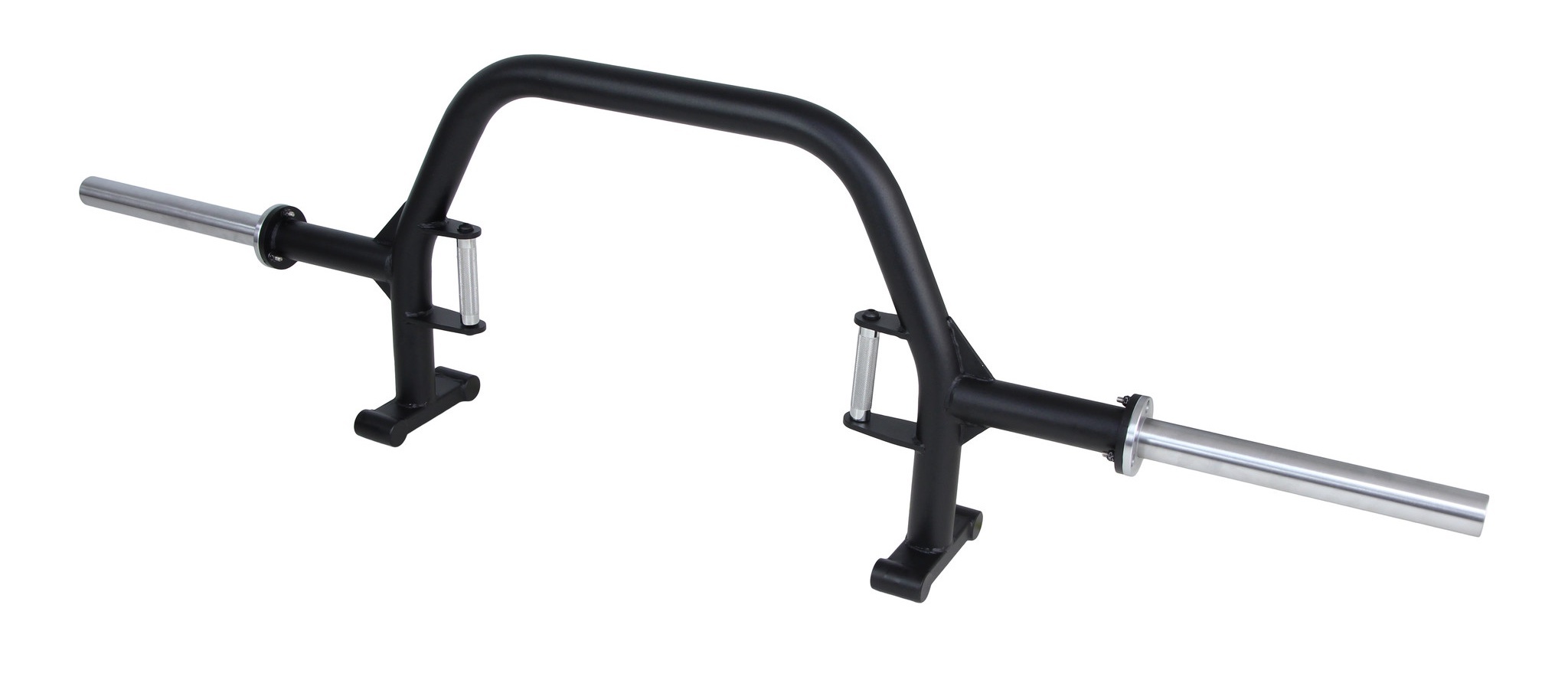 Crossmaxx® Buffalo Bar
LMX39.3 222.3cm & 22kg
The Crossmaxx® Buffalo Bar is perfect for squat enthusiasts and athletes who enjoy bench pressing! The Crossmaxx® Buffalo bar is a powerlifting barbell with a curve that allows lifters and athletes to position their torso in a way that reduces tension on the biceps, back, and chest. Using it, you can squat more comfortably and with better posture, making your workouts more efficient. Additionally, this bar improves your bench press and overhead press, offering a more natural and fuller range of motion. You can read all about the Crossmaxx® Buffalo bar in this blog post.
LMX.® Olympic safety squat bar
LMX41 220cm & 20kg
The safety squat bar features special pads and handles that rest on the shoulders, reducing the load on the lower back. This can be beneficial for people with a weaker lower back, back problems, or limitations in spinal mobility. Due to its unique design, it is more difficult to lean forward during the squat movement. This can help maintain a more upright posture and improve technique, especially for individuals who struggle to keep their chest up while squatting.

Strongman barbells
Crossmaxx® Axle bar
LMX40 20kg
This sturdy Crossmaxx Axle barbell is ideal for Strongman exercises to improve strength, grip, and conditioning. With a maximum load capacity of 675kg, this bar is ready for brutal training sessions.

Crossmaxx® Strongman log bar
LMX39.1 45kg
A Strongman log bar, also known as a log lift, is a specific barbell used in Strongman competitions and training. This bar has a cylindrical shape and four handles. It is suitable for exercises such as log press, clean and press, carry events, and overhead holds.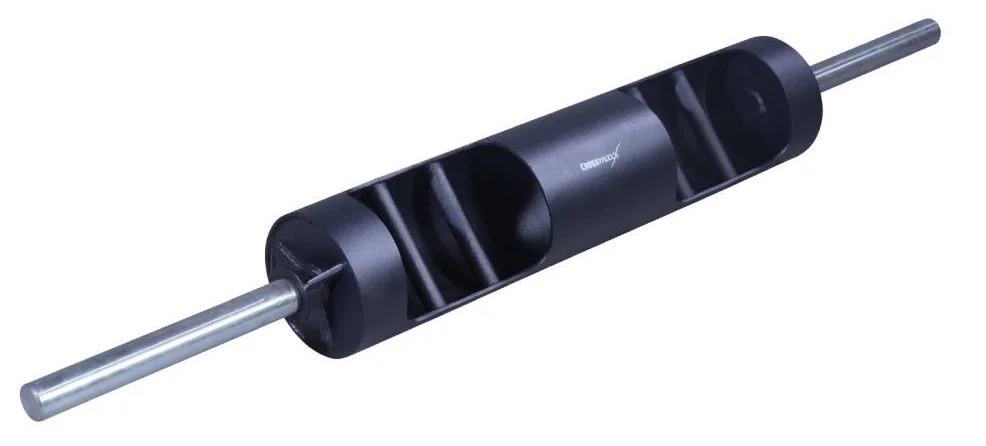 Crossmaxx® Farmer's walk set
LMX39 45kg (total)
The Crossmaxx® Farmer's Walk set offers benefits such as improved grip strength, strengthening of core and lower body muscles, development of functional strength, and improved cardiovascular fitness. It can be a valuable addition to a training routine for Strongman athletes as well as individuals looking to enhance overall strength, stability, and fitness.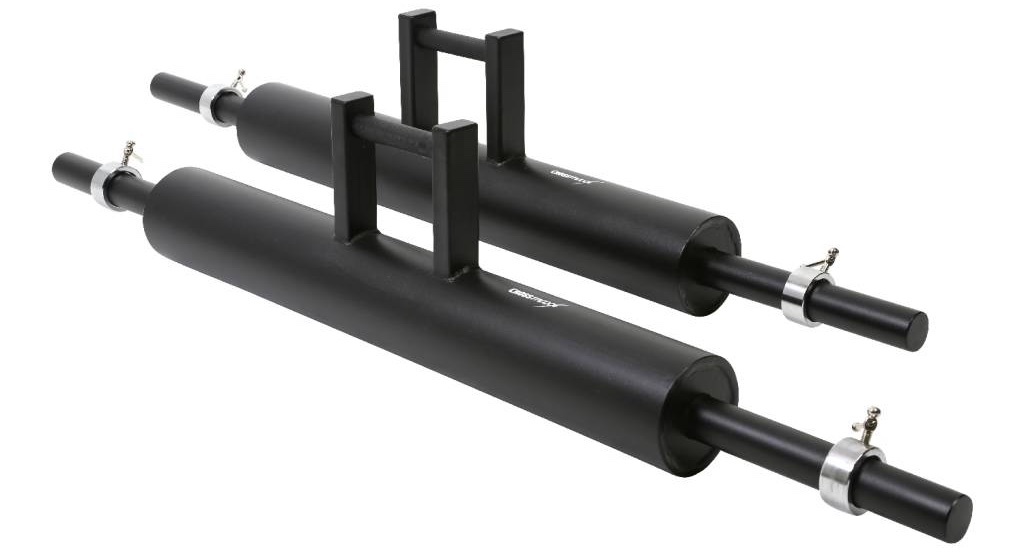 Barbells for group classes
LMX.® Studio pump bar
LMX1131 140cm & 2kg black
LMX1130 140cm & 2kg chrome
The LMX.® Studio Pump bar is the professional pump bar for group classes such as Bodypump and ClubJoy Power, as well as for personal training and small group sessions! The Pump bar is a sleek, steel (or chromed) bar suitable for intensive commercial use.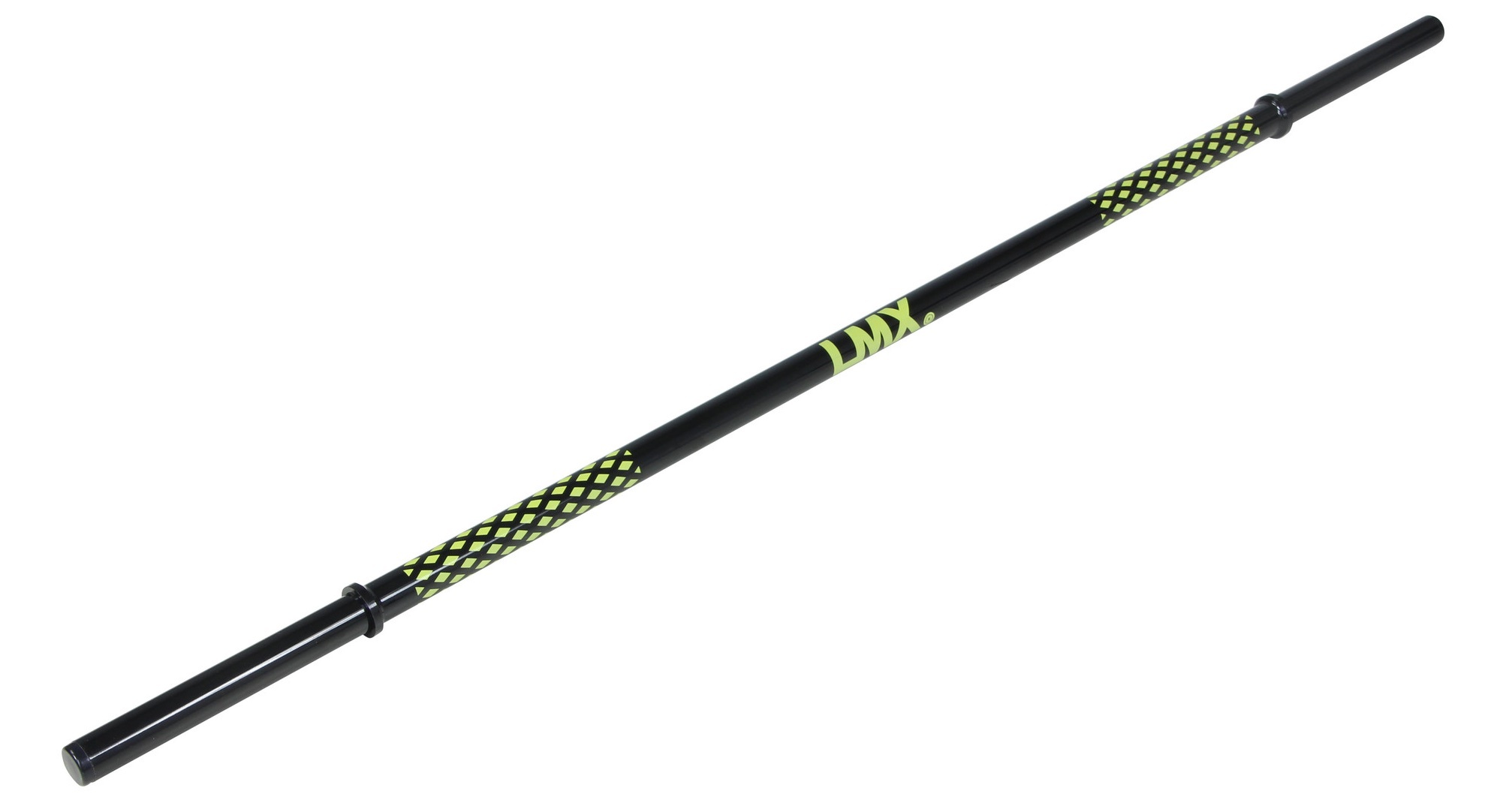 Fixed barbells
LMX74.E (PU EZ barbell, 10-40kg)
LMX74.S (PU Straight barbell, 10-40kg)
LMX77 Straight barbell, 10-50kg)
LMX78 (EZ barbell, 10-50kg)
In our range, you will also find various fixed barbells, including straight and EZ bars. These are barbells with non-adjustable weights.
The barbells are highly durable due to the Polyurethane coating. We also have rubber barbells.
High-quality grip with fine knurling.
Grip length: 95cm
Available from 10kg to 50kg (in 2kg or 5kg increments).
Higher weights are possible upon request!
These professional barbells are suitable for intensive commercial use, for example, in the gym.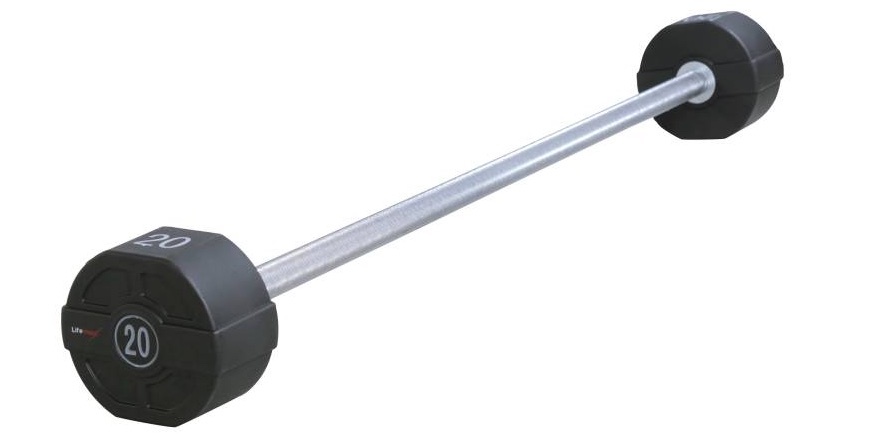 Questions? Feel free to contact us!
Now you know exactly what components are included and which barbells are suitable for different purposes. If you have any questions about our barbells, please feel free to contact us. We're here to help! Also, don't forget to watch the video on how to best maintain your barbell.